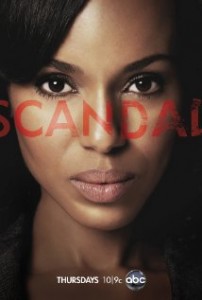 I miss Scandal.
Oh, TV during the summer has been fine. I have shows I watch, but I must admit, I'm itching for the fall shows to return. I don't watch a lot of TV, but the stuff I watch, I want back.
I got into Scandal at the beginning of the year, when all the episodes were free on Hulu. I watched all of season 1 and got caught up on Season 2 and never looked back. The May season finale ended with such a shocker, that I am dying to know what is going to happen next.
I'm also missing the Arrow and the Lying Game (though I learned Lying Game got cancelled. Booooo).  I can't say they're the greatest shows on TV, but they are my shows, and I'd like to see the new season. Part of me would love to skip all shows, wait until there's a DVD set and watch the episodes straight through. Then there's no waiting.  The suspense is still there; you just get resolution quicker (Sorta like people who don't start reading a book series until the series is complete.) However, the realistic part of me realizes watching dozens of episodes is too time consuming, generally. So, like the rest of the viewing public, I wait. Impatiently.
So, are there any shows you're jonesing for at the moment?