Subscribers to the monthly newsletter have seen it already, but for those of you who haven't joined the list yet, here's a peek at the cover of  Life First's sequel, Second Life.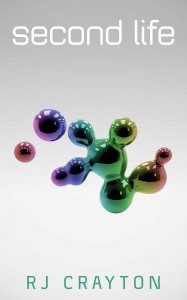 The novel is scheduled for release Dec. 4.  Everyone who's read Life First will get to find out what happened to Kelsey after her plight. Also, book one left Susan in an unpleasant spot, and there was the presumption that she'd be sent home. Guess what? She wasn't.
I can't say any more, or I'll spoil the book, but Second Life is lots of fun, and I can't wait for you to read it (less than two months from now). If you'd like a sneak peek at the first chapters of Second Life, sign up for the mailing list. At the end of October, mailing list recipients will get a special link to the first two chapters of Second Life.
* * *
In other news, Life First will be featured on two daily deal sites this month: People Reads and The Fussy Librarian. If you like good books for inexpensive prices, do check out these sites, as I'm sure you'll find a gem or two worth picking up.
Lastly, if you've read Life First, be sure to check out the extra scenes.  The ones posted involve Kelsey, Susan and Luke and provide insight into some things that happened prior to the book's opening pages.