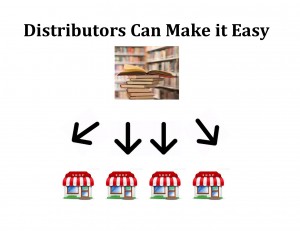 Last year, I mentioned I was a bit disappointed in how long it took Smashwords to implement things like price changes, as it would take 5 days to push out a change. Also, my cover for the Barnes & Noble version of my book didn't show up for more than a month.
With Life First, I  published direct to Amazon. When I published my second novel, I decided I'd try publishing direct to Barnes & Noble, too and using Smashwords for the remaining retailers. From what I could tell, I wasn't selling much on Barnes & Noble anyway, so why not try not selling much directly?
What I discovered is that, despite the flaws, there are some advantages to going with a distributor. The big advantage is not having to change multiple files and upload them to the different sites. I made a change or two to Second Life after it was published, and the time it took to do just one extra file change felt significant.
However, I love the ability to go in and make changes to the price at Barnes & Noble and have it appear within 24 hours. With Smashwords, I changed the price of my novels on Dec. 26 and the price change hadn't appeared until Jan. 13, nineteen days later. It meant I had to keep running a 99 cent sale longer than I intended, because Amazon won't let you raise your price if others are selling it cheaper. This is a real problem. I'm told that Draft 2 Digital (another distributor) does not have this problem, that whatever interface they use gets changes sent through to vendors within hours.
So, given the pros and cons, overall, I think using a distributor is a good idea.  I'm not particularly proficient in formatting, so the extra drama of updating files is a pain. At this point in time, I only have two books. By the end of this year, I intend to have four books, so that means each book's back matter (particularly the "Other books by this author") has to be updated. Using a distributor will be a lot easier than updating it on a dozen individual sites.
However, I have made a decision about how I plan to use my distributor, which is Smashwords.  Because most of my sales come from Amazon and a portion from Barnes & Noble, I plan to upload directly to those places. That way, I can easily make price changes, and reach most of my readers with these two sites. Smashwords distributes to Apple, Kobo, Diesel, Sony, Oyster, Flipkart (for India) and some libraries. I like the idea of my book being widely available, but the truth is, I've had one sale through any of these additional channels. So, in the future, all the books I list on Smashwords will be listed at the list price and that's it.  I will offer no sales whatsoever for any of the Smashwords vendors, because it takes an inordinate amount of time to implement price changes.
Why does it matter if the prices aren't right on all sites if the main seller is Amazon? Because of Amazon's price matching policy that I mentioned earlier. I've been told Amazon takes it's sweet time in returning a price-matched book to the normal price once you've proven the price is the same at other retailers. I don't want to be caught in price matching drama, so it's important that I have absolute control over the price, which I can't do with Smashwords. (Amazon doesn't care if it's priced higher somewhere else; they just don't want it priced lower.)
So, if I'm unhappy with Smashwords' price change timeline and have heard Draft2Digital is better, why not switch? I've thought about it. There is only one reason: Smashwords is a storefront.  D2D does not sell your book. Do I generally make sales through Smashwords? A few. However, Smashwords allows me to generate coupon codes for my books. If a reviewer is concerned about viruses and would prefer to download a copy from a retail site (rather than emailing a file), or if I host a contest and I want to provide the prize from a retail site, then Smashwords is the only place I can do that. I can generate a coupon that allows a free download, or a coupon that offers a discounted price. With D2D, I can't do that.  The other issue with D2D, is if I move my books that are currently at Smashwords to D2D, I run the risk of losing reviews. Not to say that there are tons of reviews on sites other than Amazon. However, the few that are there would be gone, so switching midstream is not a great option, I don't think.
David Gaughran wrote a great post on distributors last fall, if you're interested in another take on the distributor issue. So, what are your thoughts on distributors? Yay, nay or somewhere in the middle?
P.S. I want to thank everyone who voted for Life First for best speculative fiction in the Readers' Choice Awards. While Life First didn't win, your votes were appreciated. Let's all congratulate Teri Hall's New Zapata for taking home the award. 🙂
*****UPDATE************
C. Gockel made an excellent point in the comments section. If your marketing strategy is to make your first book in the series free, then you need to use Smashwords. They will allow you to set your book price free on Barnes & Noble.  Once it's free on B&N, Amazon will price match, and your book will be free on Amazon. So, in addition to the coupons, Smashwords is the site that can get you to perma-free on Amazon.