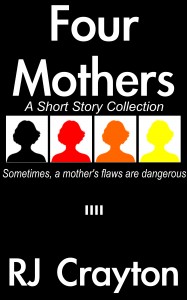 Happy Friday to you!
I'll run the Friday Fun Stuff post this evening. Meanwhile, it's time for me to offer a gift to you: my new short story collection, Four Mothers. It is free until midnight Pacific Time tonight. So, if you'd like to take a look, grab it today, gratis. It includes four stories about mothers, plus a bonus piece.
Here's the description:
Sometimes, a mother's flaws are dangerous …

Nobody is perfect at being a mother, and that is especially true for the mothers featured in this short story collection. In each story, we meet a mother as she deals with a real or perceived crisis and her flaws emerge. In Almost Perfect Bitsy's flaw causes her to take a truly horrendous action, proving that it's not just stepmothers who are wicked. Tilda, the mother we meet in As Luck Would Have It, exudes luck from every pore, but she has flawed expectations that may end up shaping her daughter's reality. Felicity is relishing her overbearing husband's absence on a business trip, when her Two-Day Break suddenly turns into a nightmare. In The Beads, Iram is living a nightmare — a child in a coma after nearly choking to death — when something happens that affects her entire outlook. Also included in the collection is a bonus story, Lynch Party, about a mother who has a different perspective on what makes a great party activity.
This is my first time enrolling a book in Amazon's KDP Select program, which makes the book an Amazon exclusive. So, the book isn't available at other retailers right now. If your reading device is not from Amazon, you can download the Amazon Kindle reader for most phone and tablet devices and read the book on there.
Feel fee to share the Amazon link with friends and consider signing up for the mailing list, which got advance notice the book would be free. I love giving subscribers information first, and you can be among the Team Crayton Crew, too, just by providing your email address on the subscribe page.
Cheers and have a great friday.