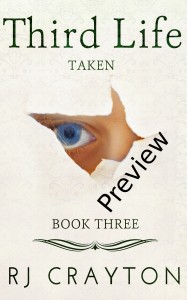 It's been a busy week for me. I had to report for jury duty on Monday (really, the jury pool; I did not get selected for a trial), but it just threw off my entire week and I didn't post anything on the blog.
However, I did want to let everyone know that the first TWO chapters of Third Life: Taken are online at Wattpad. My plan was to post one chapter a week (up to chapter 7) in the lead up to the release of the book on September 10.
However, I'll be fairly busy next week, and just decided to slip the chapter two preview in early. Don't forget there's a Goodreads giveaway for an advanced review copy of the entire book going on right now. Be sure to enter, if you're interested.
Friday Fun Stuff will return next week, with part two of I Saw the Signs.
Finally, the Princesses and Zombies!
In the spirit of Friday Fun Stuff, I'll leave you with a fun question we heard on the radio the other day: Which Disney Princess would you want with you in a zombie apocalypse?
We had some issues in my household over who counts as a princess. So, I'll clarify. I'll count Mulan as a princess for the sake of this question. My daughter told my son, "No," when he said he wanted her because she defeated the Huns. Technically my daughter is right that she's not a "princess" (by blood or marriage — so yes, Tiana, a princess by marriage, counts), but come on, Mulan is a tough cookie, and these are zombies. I'll also include Pocahantas (though I think she's a clearer case. She's  the daughter of the tribe's chief, so that's what people of Europe would've called her). Don't forget that Cinderella, Aurora, and Snow White all do animal speak, and seem to be able to rally animals to aid them in their defense, so don't sleep on these seemingly frail princesses. They got skillz, as the young people say.
Alright, that's it for me for today. I'll leave a comment tonight letting you guys know who I picked. 🙂 Have a great weekend.