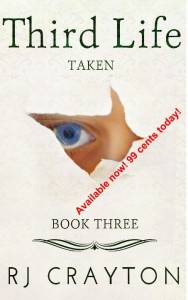 POST UPDATED @ 11:20 ET with Google Play link, first review!
Third Life:Taken is available today on Amazon and Google Play! So, for those who want to know how Kelsey's tale wraps up, you can find out right now.
As a gift to the people who follow the series and grab it early, the book is 99 cents on Amazon and Google Play today (it will be 99 cent on Amazon all day tomorrow, but the Google Play price will go up sometime midday). On Friday, the book will be its normal price at all sites, $3.99.
Third Life: Taken will be available via Nook,  iTunes and Kobo soon.  I'm trying a different distributor, Draft2Digital (D2D) for Nook, iTunes and Kobo, so I'm not sure how long it will take to appear. I was told D2D is very quick and sometimes books appear two hours after they're uploaded. However, that has not been the case for me (I uploaded the book Sept. 9 at 8 pm), so I'll let you know as soon as those editions appear online. Because I've never used D2D and am not sure if the books will take longer than two days to publish, books published through D2D will introduce at the regular price of $3.99. Google Play uses the same format as Nook (epub), so you can pick up that version if you have a Nook and want to grab a 99 cents copy.
The print edition will publish toward the end of the month. So, if you're a print lover, I apologize for the wait. The book has to be formatted differently, and I need a little extra time for that. When it is published, the print book will be enrolled in the Matchbook program (which allows print buyers to get the digital version for a discount), however the discounted price will be $1.99. So, go ahead and grab the ebook today or tomorrow if you want a copy of both. Economically, it works out better. 🙂
I'm updating my books and Q&A pages to include Third Life: Taken. I've been super busy making sure the book gets out, so I'm going to take today to review the changes before making them go live sometime today or tomorrow.
Have a great day. And if you pick up the book today, Happy Reading!
UPDATE: Third Life: Taken has it's first published review, by Chuckles the Scot, who called it, "the best book of the series and the perfect conclusion to the story."  I was floored when I read that. So glad Chuckles loved it. She gave it 4 Stars. Makes me so happy. This is the entire review: http://chucklesbookcave.blogspot.co.uk/2014/09/book-review-third-lifetaken-by-rj.html.