Kid: Teacher, would you punish me for something I didn't do?
Teacher: Of course not. I would never punish you for something you didn't do.
Kid: Good, because I didn't do my homework.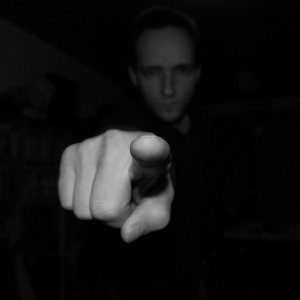 So, I start this post with this joke because (1) I liked the joke and (2) I've been thinking about when it's fair to blame someone for something they really don't have control over.
I've been thinking about the blame game for a couple of reasons. In the past few weeks, an author I know received a one-star review because the reader couldn't get the book to work on her Kindle. The author asked several people to look at the book's formatting to see if it was something the author had caused. However, everyone looked and found no problems, so it was clearly a problem unrelated to something the author done (possibly a faulty Kindle or a download that didn't complete, resulting in a faulty file). Still, the author got the blame –in the form of the review–for the problem.
At the time, I thought, gee, that's not right. Yet, just this week, I had the exact same inclination. I've loved the TV show Scandal ever since I started watching it, which was when the entire first season was free to watch on Hulu over Christmas break. I watched episodes back to back and then went on to watch the regular season. With the regular season, I was often irritated by the constant breaks in programming — two weeks of episodes followed by a three week hiatus followed by another two weeks of episodes. It was irritating, as I felt it was hard to keep up momentum. Well, Scandal went on break in November (early) and just came back last Thursday. Only, I didn't come back. I can barely remember what happened before they went on break and just don't really feel like the hassle of getting into the show to have it take a break just as things are getting good.
My husband said, "Don't you want to support Shonda [Rhimes]?"
Well, yeah, I do want to support Shonda, but I'm also tired of getting my chain yanked.
"It's not her fault they keep choosing to delay the show. She can't like it."
And he's right. It's not her fault. But, I'm taking my hostility out on the show nonetheless, as, at some point, I don't know that it matters who's at fault, because the result is a viewing experience I'm not happy with.  Now, interestingly, my father, who also watches scandal, told me he was done with the show, when Olivia, the main character, tried to kill her father (she thought the gun was loaded, but it was not). My father seems to have very strong feelings on the subject of whether daughters should shoot their fathers (at least he expresses strong feelings on the subject when talking to me; perhaps he'd be less vehement when talking to people who weren't his daughter).  So, if he has stopped watching, then that's squarely for a problem he has with the writing, rather than the distribution (my problem).
I know I'm sorta meandering here, but I bring this up because I think it's good that self-published people have a fair amount of control over their products. Unlike Ms. Rhimes, who doesn't get to schedule breaks, self-pubbers get to decide when their books will be released, to which vendors, and on what schedule. And while the stray user will have difficulty with a book for bizarre reasons, self pubbers have a lot of control over how their books are formatted. I like that. Because if I'm going to get the blame for something whether it's my fault or not, I'd prefer it to actually be my fault. With self-publishing, 9 times out of 10, it will be my fault. All the credit. All the blame. And I'm good with that.