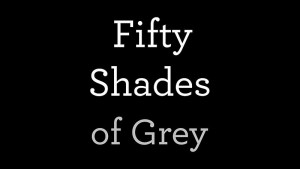 The 50 Shades of Grey movie came out Valentine's Day weekend, and in the week leading up to and following the opening of the movie there's been a lot of talk about it. A lot of the talk has been about whether the book and film are good for women and glorify abuse or if they're just an escapist story.
On the anti-side, several folks have thrown out statistics like this one:
 The survey found women who read the book were 25 percent more likely to have been in an abusive relationship in which the partner yelled or swore at them. They were 34 percent more likely to have been with someone who "exhibited stalking tendencies." And were 75 percent more likely to have used diet aids or fasted. (Washington Post)
The survey found a correlation (not necessarily a causation) between reading this book and abusive relationships. This gets to the heart of the furor over the books and films. It all boils down to the simple fact that stories can be powerful, changing people's perceptions and behaviors. Not all stories are powerful, as some are badly told or just plain boring. But, they all have the potential to be. If you look at human beings as a whole, no matter what culture or society you look at, they all impart important cultural messages, histories and lessons through stories. They do this because stories have the potential to be powerful.
Those who are opposed to 50 Shades of Grey do so not because they have some secret hatred of the author or even that they are prudish or behind the times, they do so because they believe that the books hold a powerful message, a powerfully bad message.
But here's the thing I wonder. If you read the book and are appalled, is it still a powerful book? Does it still send a powerfully bad message? If you read the book and think this is how relationships should be, that abuse during sex is all well and good, is the message powerful, then? If you read the book and think it is nothing but silly escapism and you can't even fathom how James came up with such outlandish sexual exploits, is it powerful then?
I wonder, where does the power in a powerful book lie? Is it solely within the hands of the author, who crafted the words, or is it in the hands of the readers? Do the readers determine its power by the weight they give to the words, rather than by what the author set out? Perhaps it's some measure of both, but I do wonder just how much each person's role plays.
No doubt there are books that are powerful but where does their power lie? Look at Harriet Beecher Stowe's Uncle Tom's Cabin. It was a book hailed in the North for its abolitionist sentiment, yet reviled in the South. Was its power in its words absolutely or in people's reaction to them. Is Hitler's Mein Kampf powerful if you pick it up and cringe, or is it only powerful if you internalize its message, adopting it as a universal truth?
Perhaps the truth lies somewhere in the middle, that our own experiences coupled with the author's words capturing something universal all go toward making a book powerful. And if that is the case, I'm not sure that boycotting the message makes it less powerful to those who give it its power. And perhaps that is why there have been so many essays and news articles on the issue. Because it is not the author who must necessarily be reached, it is the reader who will ultimately deny or allow power to be bestowed upon the words.
I do find the calls to boycott the movie and not read the book interesting. I am not opposed to boycotts, as I find that people who do wrong for financial motive easily stop that behavior when the financial incentive disappears. However, from a pure power of words perspective, calls to boycott the film or not read the book, seem to strike at the notion that we can be changed in negative ways by stories, even if we disagree with every principle of them. That by simply reading or viewing this, our soul will be darkened in ways that we can't take back, and therefore we shouldn't even do it.
While I do agree that certain things can not be unseen, I'm not sure this book/film falls into the category of things we need to not even participate in. I think I'd be more prone to, if I hated the book (which I didn't), writing an essay explaining why it was bad for people than to suggest they never view it with their own eyes.