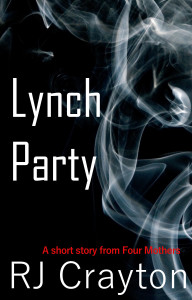 Last night, I was startled to see a story pop up in my Facebook feed about Mississippi authorities finding an African-American man, Otis Byrd, 54,  hanging from a tree in the woods. Police said they were investigating all angles, including suicide. However, it seems doubtful to me that an African-American man in Mississippi would choose a method with such historical pain to end his own life.  If it has feathers like a duck, quacks like a duck, and waddles like a duck, I'm inclined to believe it's a duck. I'm also inclined to believe this is a lynching, though I'll wait for the authorities to have their say before finalizing any conclusions.
As we await for more word of what exactly happened, I thought I'd make one of the short stories from the Four Mothers collection, available briefly for free. Lynch Party tells the exact type of tale you think it would tell, based solely on the title. There is some graphic imagery involved. But, the tale was meant to serve as a reminder that people shape their worldview by their history and we should be sensitive to that. It saddens me to think, though, if the Mississippi case is, in fact, a lynching, that our history isn't so historical anymore. It seems to be repeating parts we would rather not.
Lynch Party is available through the weekend on Wattpad.