I was thinking that I hadn't posted to the blog in a while, so I thought I'd swing by and write a short post. Only, when I looked at the last blog post, it was Feb. 8. And now it's the 29th (a bonus day; normally it'd be March).
I thought I'd pop in and say, "Hi."  I've been busy working on finishing my virus series. I anticipate releasing the first book in the series in May. I'm also working on a young adult novel called Scented. I'm still trying to determine a release date on that. But, the first draft should be finished by the end of this week. Yay!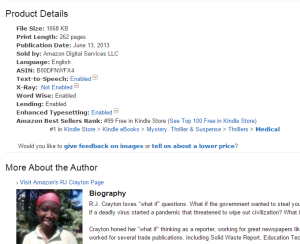 In other news, Life First had an unexpected rise in free downloads yesterday. I'm still learning the ins and outs of a FREE first in series. So far, I can say, I've earned more having the first free than having it cost money (through sales of the subsequent books). And yesterday, I had a huge spike in downloads and landed at No. 99 FREE in the whole Amazon store. I've dropped to No. 127 FREE in the Amazon store, but I'm not complaining. 🙂
I'll try to blog more in the month of March. I'm sure it will be off to  a great start.