At the beginning of the month, I mentioned I was part of the Big Book Giveaway. As a featured author, we've been asked to feature one or two of the books being offered in the giveaway. Today, I thought I'd feature two books I thought you might enjoy.  If you don't win the giveaway, please consider grabbing this book anyway.
Silent Slaughter
By C.E. Lawrence

4.5 stars, 26 reviews
THERE IS A METHOD TO HIS MADNESS
He chooses his tools with precision. Stalks his victims with cold efficiency. Plans his attack using mathematical logic. And now he is ready to play…
THERE ARE RULES TO HIS GAME
When the killer's first letter arrives at the station, NYPD profiler Lee Campbell suspects the writer is daring him to match wits with a dangerous—and brilliant—criminal mind. But once this "Alleyway Strangler" starts leaving specially targeted messages with each surgically carved corpse, Campbell realizes it's not just personal. It's perfectly calculated—to destroy him…
The Princess, the Pea and the Night of Passion
By Rosetta Bloom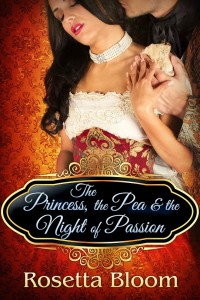 4.1 Stars, 19 reviews
Getting to happily ever after has never been so sexy or so much fun. Passions run high in this retelling of the classic fairy tale The Princess & the Pea.
In this grown-up version of the famous fairy tale, Arabian princess Adara is running from her old life and a forced betrothal. Adara, an exotic beauty, wants love and passion, but knows she can't get that back home. When a raging storm halts her escape, Adara seeks refuge in the first dwelling she sees.
Prince Richard is tired of the trite, vain, frigid princesses his mother introduces him to in hopes he'll marry. On this stormy night, the blue-eyed prince is in the mood to love a woman, but he's all alone.
Adara arrives on the castle doorstep, saying she's a princess in need of help. The queen is doubtful and decides to lock Adara in a room with a pea to determine if the girl is as royal as she claims. Richard believes the beautiful, charming stranger, but he wants her locked in a bedroom for other reasons.
When Richard and Adara hook up, there's more than a pea-sized bit of passion involved….
(This is an adult fairy tale; steamy romance included.)
The ebook is FREE.
—————-
You can enter the giveaway through the end of the month.