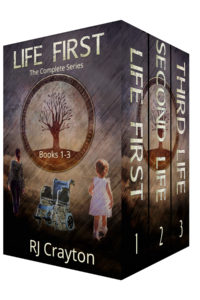 For a while now, I've been considering doing a boxed set for my Life First series. I've heard that some people like to have their ebooks all in one place.  Some people also prefer to just go whole hog and grab  the entire set.
So, I've created an ebook boxed set, and it's available for sale on Amazon right now. I'll be pushing it out to the other vendors as the week goes on. I have to decide if I want to try to get it to Apple (sorry ibooks users). Apple has some different formatting requirements for boxed sets, and it's not clear it's worth it to invest my time in doing a boxed set there.  I'll add a post later in the week, once the boxed set is up everywhere else (with links to the various vendors).
Please note, the boxed set is ebook only. I don't know of a way to get a boxed set for print (I do apologize for those who want it).  The boxed set saves buyers a little money if they intend to read the whole series.
If you've read all the books in the series, I'd love it if you left a review on  the Amazon boxed set page.
I hope everyone is having a great labor day.