Just a quick note to let you all know that first book in my newest series is coming out in just over two weeks. Here's the blurb for the book, which is the first part of a four-book series.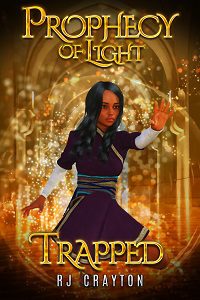 "Be careful what you say. Words have power."
— Auntie
Kady can't remember a time in her life when she wasn't hiding. From someone or something, but she's never been sure the cause of the secrecy. Auntie, her only companion and the only person she trusts, says that words have power, and she can't tell Kady what they are hiding from. Only that the two of them must stick together and stay under the radar.
When Kady awakens in the middle of the night with her house crumbling around her, Auntie hustles her into the night and tries to protect her — through words, magic words.
While Auntie succeeds in hiding Kady, she falls victim to the mage who has been searching for them the past 10 years. Kady knows that she must find her aunt and save her. But will she be able to tap the power trapped within her to do it?
While I've been hesitant about doing pre-orders in the past, a couple of authors I know have said they've had better pre-order experiences and suggested a couple of things, so I'm going to give it one more shot. The pre-order page is https://www.amazon.com/dp/B01LZBQWM8. The book is just 99 cents, as it's more novella sized. The second book in the series, Prophecy of Light – Unleashed, should be out the following week, Oct. 24, and then there will be a three-to-four week gap between story publication dates.
Feel free to add the book to your Goodreads T0-Be-Read list. The Goodreads page is here: https://www.goodreads.com/book/show/32316434-prophecy-of-light—trapped.