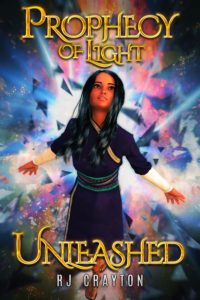 Woo-hoo. It's been a little over a week, and I wanted to mention that I'd released book two in the Prophecy of Light series.
Unleashed is available now and it's just 99 cents for the first couple of days. It will go up to $2.99 later this week. This continues the story of young Kady as she tries to figure out her magic and unleash her power.
I'm incredibly excited that Unleashed is here. Both books in the series are exclusive to Amazon and FREE for Kindle Unlimited subscribers. Prophecy of Light – Trapped, the first book in the series, is just 99 cents, as well.
As a side note, I wanted to let you know I'm participating in a group giveaway of sci-fi and dystopian fiction authors.  This giveaway lists 26 books you can get free via Instafreebie, as well as a drawing for two $40 Amazon gift cards. If you're interested in the books or the drawing, click the image below.