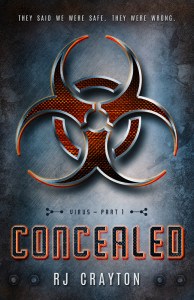 Happy Tuesday to you. I hope you had a great weekend and Monday. Just a couple of quick notes.
First and foremost, my book Concealed is FREE today. The book is part one of the virus series. I'd love it if you would grab a copy while it's free. If you like the book, please leave a review, too.  This is the first time Concealed has been free, so I'm curious how the additional eyeballs will impact things.
Also, I wanted to mention that I moved the books Second Life and Third Life: Taken into the Kindle Unlimited program. This means the books are now exclusive to Amazon. They had been wide (at multiple retailers) since their publication, but just haven't had anywhere near the sales on other vendors as they've had on Amazon. So, I decided to pull the books into the Kindle Unlimited program, with hopes they'd earn more in borrow fees than they earned at the other vendors (which seemed likely based on my Virus series sales and borrows).  The KU terms is 90 days, so I'll reassess things at the end of the 90 days.  Even though books two and three are in KU, I'm leaving the first book in that series, Life First, available free at all vendors.
That's it for me today. I hope you're having a good one, and be sure to grab a copy of Concealed.