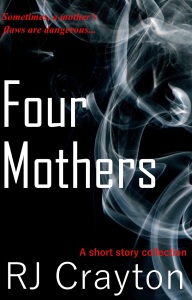 Four Mothers is a short story collection released in 2014.
Per the title, the collection is about four different mothers and the unique struggle each faces in mothering her child. A fifth bonus story is also included, because you readers are awesome and deserve a little something extra.
A sample from the collection (the shortest complete story: Almost Perfect) is available on Wattpad. The remaining stories (The Beads, As Luck Would Have It, Two-Day Break and Lynch Party), can be found in the collection. This book was previously exclusive to Amazon, but is now available for wide purchase.
.


Here is the book description:
Four stories. Four mothers. Four crises. One great read.

Our notions of motherhood run the gamut from the mythical SuperMom to the dreaded Mommy Dearest. None is entirely true, as all mothers are both perfect and flawed. Four mothers tells four stories of mothers who each face a crises, either real or perceived, in their parenting life. Change the way you see motherhood.

In Almost Perfect, we see our Mommy Dearest end of the spectrum with Bitsy. She wants her grandson, whom she is raising to be perfect, and with Bitsy, we are reminded, it's not just stepmothers who are wicked.

Tilda, the mother we meet in As Luck Would Have It, exudes luck from every pore. She would love to be the super mom who saves the day for her family, but she has one problem – her daughter's seeming lack of luck. In fact, Tilda's luck fails whenever her daughter is around. Tilda's solution to this problem could prove problematic.

Felicity is relishing her overbearing husband's absence on a business trip, when her Two-Day Break suddenly turns into a nightmare.

In The Beads, Iram is a mother coping with crisis — a child in a coma after nearly choking to death — when something happens that affects her entire outlook.

Also included in the collection is a bonus story, Lynch Party, about a mother who has a different perspective on what makes a great party activity.