St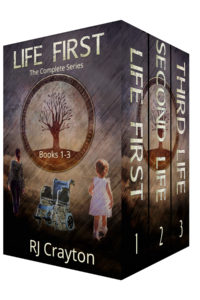 ep into a society that values humanity over individual humans, where your body is important because it might be able to save others. This box set includes the three books in the thrilling dystopian Life First series.
Includes:
Life First
Second Life
Third Life: Taken
Life First
Strong-willed Kelsey Reed must escape tonight or tomorrow her government will take her kidney and give it to someone else.
She'll need the help of her true love, Luke, to make this dangerous escape. This dystopian future Kelsey lives in was forged by survivors of pandemics that wiped out 80 percent of the world's population. Here, life is valued above all else. The mentally ill are sterilized, abortions are illegal and those who refuse to donate an organ when told are sentenced to death.
Determined not to give up her kidney or die, Kelsey and Luke enlists the help of a dodgy doctor to escape. The trio must disable the electronic tracking chip in Kelsey's arm for her to flee undetected. If they fail, Kelsey could be stripped of Luke, her kidney and everything else she holds dear.
Second Life
Susan Harper is being held captive by her government, with no clue why. She knows she helped a fugitive escape and that she's being constantly prodded by doctors, but her please for answers to why she's been locked away fall on deaf ears.
As the normally feisty Susan's hopes of freedom dwindle, a mysterious stranger sneaks into her room and promises to help. Mystery man Rob grows close to Susan as he tries to engineer her escape, without raising the suspicion of the government holing her. While Rob had hoped he had time on his side in helping Susan get away from the government, all that changes when the duo discovers the truth behind Susan's captivity. They must speed up their plan to save her.
Susan and Rob will need more than passion for each other and their wits to succeed. They will need help from old friends, including Kelsey Reed. Susan helped Kelsey start a second life in book one of this series. Will Susan get a second life of her own?
Third Life: Taken
When Kelsey Reed fled her country to escape a forced kidney transplant, she was sure she'd never return. However, when her brother-in-law shows up on her doorstep, he commits an act of betrayal by kidnapping Kelsey and Luke's daughter.
Forced to head back to the nation that tried to kill her, Kelsey will need the help of her husband Luke, and friends Susan and Rob to get her daughter back.