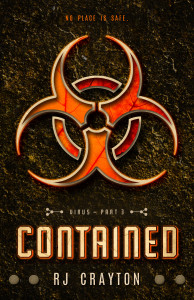 Contained is the third and final book in the Virus series.
 No place is Safe.
Elaan, Lijah and Josh have been searching for safety ever since they left the Scientist Protection Unit.
As they're forced to leave their latest home, they find old friends in new places. Just as they think things are finally coming under control, the ground shifts beneath them.
In this exciting final book, our leads search for the solutions that have evaded them thus far, in hopes of finding happiness for themselves and the world in peril.
This book is available on Amazon. It is FREE for Kindle Unlimited Subscribers.