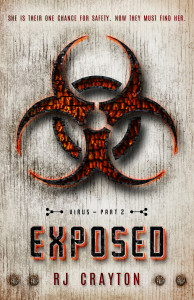 This book is the second in the Virus series. It picks up where Concealed leaves off.
She is their safe harbor. Now they must find her.
The safety of the underground bunker is left behind. Elaan and her friends are out in the open, exposed to the world above. Exposed to a world that has been ravished by the virus. Can they make it to the one person they've been told can provide them safety?
Exposed is available at Amazon: https://www.amazon.com/dp/B01FYWMHHC.