I saw an article the other day that said only a third of parents read bedtime stories to their kids. I found this a bit horrifying. Now, a friend who home schools says she reads to her kids (and everything else) during the day, so at bedtime it's time to go down. I completely get that.
That said, I'm not sure most of those people in the remaining two-thirds were reading during the day, as opposed to at night. Reading is a great way for parents and kids to hang out together.  Reading at bedtime is a great time to do it.  So, today, I decided to  throw out some great books that are fun at bedtime.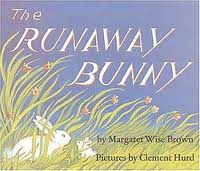 The Runaway Bunny.  Margaret Wise Brown's Goodnight Moon is a favorite for many. And while I like the book, I truly adore her Runaway Bunny. It's a charming little tale of a little bunny who says he's going to runaway, and his steadfast mother promises to find him no matter where he goes. Nothing better at bedtime than being reassured that mommy will always come for you.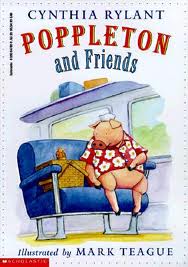 Poppleton and Friends. This book is by Cynthia Rylant and is the second book in her Poppleton series. I like this one a lot.  All Poppletons include three short stories (which take about 2 minutes each to read; so you can read all or just one). It's darling and charming and will give your kids a good feeling before they go to bed, as the final story in the book ends with Poppleton learning the best way to live to be one hundred is to find lots of friends.
Mr. Putter and Tabby Row the Boat. This is also by Rylant, and is charming, too. Mr. Putter stories are all a single story and run the same length as the Poppleton books. I throw this story in because it's so hot here right now.  This story is about how Mr. Putter and his neighbor decide to go for a cool boat ride at the lake to escape the heat.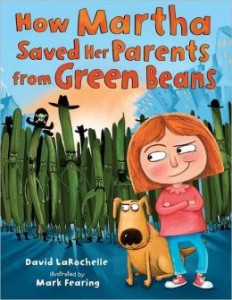 How Martha Saved Her Parents from Green Beans. I happened to just discover this gem at the bookstore with my daughter. It was an amusing book, and if there is anything parents need at bedtime, it's amusement.
* * *
If you're into chapter books, here are a few hat you can do a chapter a night with (all are series):
Rainbow Fairies. This is by a group of authors who use the pen name Daisy Meadows. The chapters are fairly short, so one a night is easy to do. They all follow the same formula, but little girls like these books.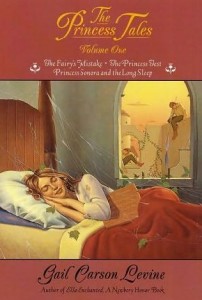 Princess Tales. This is a series by Gail Carson Levine, author or Ella Enchanted. Just like Ella Enchanted, these books are charming, enthralling and great for kids. The only problem I've ever had with reading these books at bedtime is that at the halfway point, I was so dying to know what happened that, once I put the kids to bed, I had to stop what I was doing and finish reading the book.  You can try reading Ella Enchanted at bedtime, but the chapter where Ella's mother dies is a bit of a downer. I also recall the chapters as being a little longer.  (If you've seen the movie Ella Enchanted, please don't judge the book by that. The book is wonderful, whereas the movie retains about 1 percent of the charm and only about 30 percent of the plot. My children were terribly disappointed when we watched the movie after finishing the book.)
Magic Tree House. This series by Mary Pope Osborne is quite popular. It's both educational and interesting. My daughter likes it more than my son.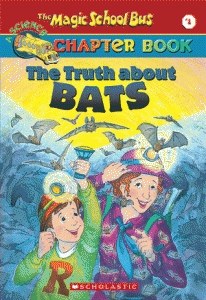 Magic School Bus Chapter Books. Again, this is another series that is entertaining and educational. It's not a bad read and chapters aren't overly long. The chapter books are based on the characters from the Joanna Cole books, but written by different authors.
So, are there any books you loved reading to your kids that you think parents should give a try?