Haven't done one of these in a long time, but I'm back with a movie review.
Took the family to a sneak preview of Dreamworks' Turbo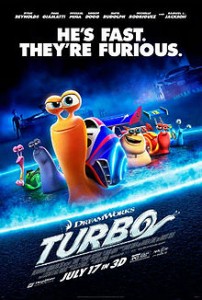 over the weekend, and overall a pretty fun family film.
Overview: The film is an amusing story of a snail who dreams of racing incredibly fast. His dreams are fueled by watching videos of Guy Gagne, a car racer who says no dreamer is too small. Now, given that he's a snail, and that other snails realize the inherent limitations in a snail's biology, most of Turbo's friends laugh at him.  Turbo falls into a vat of nitrous oxide during a drag race and wakes up super speedy. Good thing, because his brother is snatched by a crow, and Turbo has to speed off to save him. In the rescue process, the snails are captured by Tito, one of two brothers who own a taqueria. Tito enjoys snail racing. Usually the snails move slow, but Turbo blasts past them, leading Tito to decide to enter the snail in the Indianapolis 500.
The good: The movie is really amusing and well spirited. Samuel Jackson's Whiplash is a small character who steals the show. One of my favorite exchanges from the movie: Turbo asks, "Are you insane?" Whiplash in an 0h-soooo-Sam-Jackson way says, "Whatever made you think I was sane?"  It's nice at the end when Turbo's brother, Chet, finally supports him. Also, it's fun to see cars and snails go fast. Also, Ken Jeong (from the Hangover films) voices a hilarious nail salon owner.
The bad: The movie starts off a bit slow. I didn't clock it, but it felt like we were at the halfway point in the movie before we finally met Tito and got a sense of how Turbo would get to the big race. I'm aware that underdog films have to have an underdog, someone who is told that he's got no chance of succeeding. However, I felt the level of hostility leveled at Turbo by his brother was too much. It was more acceptable in the beginning, when Turbo had no super powers. But, as the movie went on, it went over the top.
For Folks with Small Kids: If you have small children, be aware that a running joke in the film is that the snails are plucked up by crows and taken away to be eaten. You never see the crows eating the snails, so maybe it will go over the kids' heads. But, if you think your kid will be bothered, FYI.  Turbo's brother Chet is taken away by a crow at one point and Chet appears pretty scared during this scene. (Also, Kids in Mind gives great depth about issues that might bother small children).
Verdict: If you're seeking a family film you and your kids will enjoy (and you're cool with the small kids issues), this is a good choice. Feel free to have some early on bathroom breaks. But, don't get up after Turbo meets the racing snails.