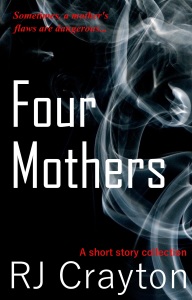 Happy Tuesday to you!
I just wanted to offer a quick update and let you know that my short story collection, Four Mothers got an update over the Christmas break. I redid the cover to look a little more intriguing. The first cover was one of my first attempts at making a cover. And while it was good for what it was, I don't know that it conveyed a lot of interest.
This new cover, I hope is ominous and interesting enough.  As always, Four Mothers is just 99 cents at Amazon. If you're interested in more on the book, I published the first story from it as a freebie. You can read it online at Wattpad, or download it free form at Barnes & Noble, Kobo and Apple.  It's not on Amazon because Amazon doesn't let you automatically set a book price free, and I'm hesitant to post it at 99 cents and have somebody buy it prior to Amazon price matching. It's only a 1,200 word story.
Anyway, that's the skinny on that. Hope you have a lovely rest of the week.