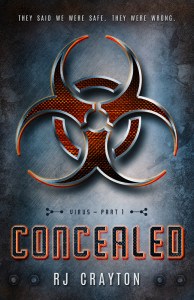 I just wanted to thank everyone who voted for Concealed for a Kindle Scout submission. Unfortunately, the book was not selected for Kindle Press publication.
I got word last  night, and those of you who voted will likely receive an email from Kindle Scout in the next day or so letting you know the book wasn't selected. However, I will publish the book later this month.  So, here's the publication schedule for the virus series:
Book 1 – Concealed will publish May 23
Book 2 – Exposed will publish June 14
Book 3 – (Title Forthcoming) will publish Aug. 3
There's a slightly larger gap between books two and three of the series because I'll be publishing an unrelated book in July (Scented, but I'll talk more about that in a couple of weeks). But, by summer's end, the entire series will be available. While the book is ready for publication, I'm going to be sending out a few more Advanced Review copies of book one and scheduling some first week New Release advertising. So, pushing the release date to May 23 gives me some time to set that up.
Thanks again for your votes and your encouragement. I look forward to releasing Concealed into the world next month. I'll set up the pre-order for the book early next week. Also, check back here on Sunday, as I'll be revealing the cover for book two of the virus series.