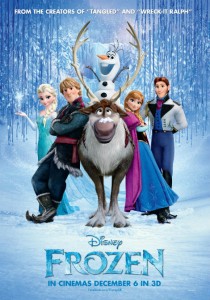 I saw Disney's Frozen at a sneak preview at the end of October, and I must say, I was blown away. This was an absolutely fun, charming film full of unexpected pleasures.
The story follows two sisters: princesses Elsa and Anna. Elsa has the magical power to make snow and ice appear. As children the sisters have fun roaming the castle, with Elsa making snow and Anna playing in it. Anna is hurt when Elsa accidentally hits her in the head with a magical ice ray. The King and Queen rush Anna to the trolls for help (Why trolls? No idea. Don't let this deter you. Trolls worked for the movie).  The trolls cure Anna, but tell the king and queen that a strike of magic ice to the heart would kill Anna, so it's important to keep Elsa's powers under wraps.  The king and queen tell Elsa she must hide her powers from everyone, including Anna. The younger princesses' memory is wiped, and Elsa refuses to have anything to do with her sister, for fear her secret be discovered.
Well, the girls grow up, their parents die, and Anna longs to be close to her sister, like they were when they were younger. The heart of the movie occurs when the newly queened Elsa loses her temper and accidentally freezes the entire kingdom (snow everywhere in the middle of summer!). Elsa flees to the woods, with townspeople calling her an evil sorceress queen. Anna goes off to find her sister and prove to the people that Elsa is good at heart.
It's a great tale. Anna gets aided by two unlikely helpers: ice supplier Kristoff and hilarious magical snowman named Olaf.  To be honest Olaf steals the movie at times. (I won't tell you the recurring gag that is so hilariously adorable; you can see for yourself at the movie). I will say Olaf was an unexpected pleasure.
The movie is also fun Disney also lovely because Disney pokes fun at itself.  In a subplot at the beginning of the film, Anna falls madly in love with and gets engaged to a man she just met. Several characters comment on the ridiculousness of this love-at-first-sight-lets-get-married concept (one Disney's made it's bread and butter on; Prince Charming  who was so smitten with his love that he couldn't recognize her face and had to rely on a shoe to identify her; same with poor Arielle, who mortgaged her sole to be with a guy she spent five minutes watching on a ship).
This is a great family flick. It will make you laugh, cry love, and pick up the phone and call your sister (or brother). It's got that special mix of heartwarming Disney magic without being preachy or syrupy.  Even if you don't have little ones, go see this film. It's that good.
Frozen opens in wide release today (Nov. 27). It was released at a single theater in Hollywood on Nov. 22 (this Forbes article explains why).
Young kid Alert
Parents of younger children should be mindful that there is a scary snow monster in one scene, as well as some sinister townspeople (the ones who want Elsa denounced as a wicked sorceress). These sinister characters are on the level of Gaston in Beauty and the Beast, so they're fairly mean-spirited and actively plot to murder Elsa. So, make your own judgments about suitability if you have small children. As always, the best site to gauge suitability of a film for your family is http://www.kids-in-mind.com/. That site lists each incidence of violence, sexual content and profanity in a film.