Happy Monday to you! Christmas is just a few days away. So excited!  (Quick note, and I do apologize, but I was counting down, instead of counting in the normal way, so my numbers were out of line with the rest of the bloggers. I adjusted the numbers so we're all copacetic today.)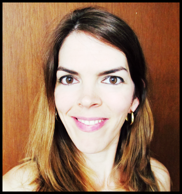 Today's post is from Sarah Lane, author of The God of My Art, a quarter finalist for the Amazon Breakthrough Novel Award. The God of My Art is the coming-of-age story of a young artist for whom a summer fling awakens the dream of a more creative life. Lane's other fiction and poetry have appeared in The Antigonish Review, Roar Magazine, and Quills: Canadian Poetry Magazine.
Lane is currently writing a psychological thriller about a salsa dancer and her doppelgänger. To be the first to know when it comes out, sign up to her new release mailing list.
To learn more about Lane's writing, visit www.sarahlanebooks.com.
* * *
Morning Light
I.
The leaves are falling, clumping on pavement, wet and mute
like the beat of lips, fluttering with a whisper in the rainstorm
black like mascara streaming down a throat, waft of a secret
curling under earlobes to the small of a neck, drizzling into the
chaos of hair and drift of fingers down the meridian of spine
When we close our eyes we forget our continents, yellow
silk of the setting sun, sheen of snow under moonlight, the sweet
spice of a foreign accent, damp warmth of a strange tongue pooling its
syllables behind our lips, this contrast of skin where we sit, side by side,
legs swinging off the bed in the hush of the morning light