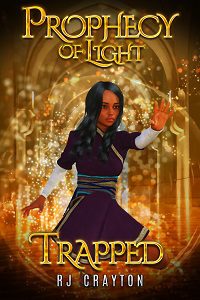 Happy Monday to you. I hope you've been well. I've had a busy weekend, where I saw some friends and hung out with my family.
I just wanted to let you all know that Prophecy of Light – Trapped is out today. It's available on Amazon for 99 cents, or FREE if you're in Kindle Unlimited.  This is the first book in the Prophecy of Light series, which follows 14-year-old Kady, who has been hiding for as long as she can remember. But, now that the darkness seeking her has caught up, she's got to figure out how to survive. It's a fun, short book. Next week, part two of the Prophecy series, Unleashed, will be published, so you'll get to see more of Kady's journey then. In the meantime, I hope you'll grab Trapped.
Lastly, I wanted to mention that Scented, my paranormal, young-adult story, is the Book of the Day today. So, that's quite lovely, and I really appreciate it. If you haven't read Scented, go ahead and check it out at a retailer or peruse it free when you join my mailing list.