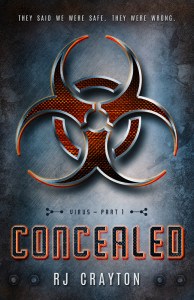 They said we were safe. They Were wrong.
Seventeen-year-old Elaan Woodson was supposed to be one of the lucky ones. She got one of the few spots in the subterranean protection unit designed to keep select families safe from the deadly virus ravaging the world above.
She's found happiness in the routine underground, and even a budding a romance with a boy who's also down below.
But, as Elaan hears snippets of conversations from those closest to her and those in charge, she's beginning to think things aren't as safe as she thought. While Elaan has heard that what you don't know can't hurt you, she's beginning to think otherwise.
The truth may be the only thing that can keep Elaan safe. But, can she discover it in time?
You can order it here: http://www.amazon.com/dp/B01F133GQU.
Here's the Book Trailer for Concealed: