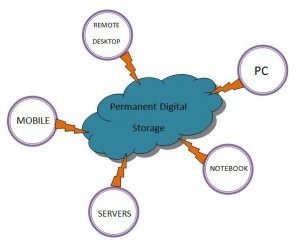 I am in love with the cloud. There, I said it.
I am a writer,  and I love having the freedom to access my documents anywhere, anytime and from anyplace.
I say this because I've seen several posts recently (well, even before recently) extolling the virtues of Scrivener writing software.  I can't say whether Scrivener is the best thing since sliced bread or not, since I haven't used it, but I will say, I won't be using anything I can't access from the cloud.
As a ninja mom, my life is such that I end up taking my kids a lot of places. Sometimes I'm actively involved, while others, I have to be on the sidelines waiting. During those times, I'll often pull up my WIP on my phone and review it. I like making notes, flagging things to research and generally figuring out what I need to do the next time I'm at a computer to sit down and write. Now, I could travel with a laptop, but then battery life  and memory become issues (my memory–to bring it with me, to bring it home, not to leave  it in the car in 100 degree heat[probably 120-160 degrees inside the car]). So, I love being able to pull up my story on an app on the phone.
Part of me wonders if it's just me. Whenever I say to someone I access my data on the cloud, they look at me like I've got three heads. Has the NSA scared everyone away from using the cloud? Or am I just a nutcase.
For me, it works really great. It gives me a chance to review things from the previous day and get in the mindset for writing, so that when I do sit down to write, I'm ready to go from second one. I've also never had issues with loss. I occasionally download versions of my cloud stuff to my computer or a thumb drive, but I'll be honest, I've had fewer problems with cloud losses than I've ever had with a computer.
Anyone else a cloud enthusiast?