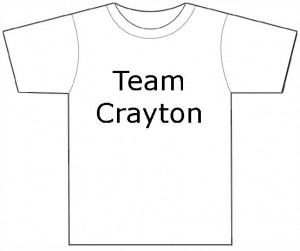 Team Crayton isn't about love triangles. (Yes, all the Team Edward, Team Jacob, Team Tom, Team Katie shirts will have to be thrown aside.) There's nothing adversarial happening here. It's all Team Crayton, and I want you on my side.
As such, Team Crayton is all about spreading the word about the books. To be a part of team Crayton, you can simply spread the word and the love. If you blog, market, or just enjoyed the books and want to pitch in, I'd love you help . Tell your friends, tell your enemies, gift copies to others, join the mailing list, like the Facebook Page, follow me on Twitter, follow me on Pinterest, Pin a book cover, reblog a blog post*, leave a review, read it for book club,  request your library order a copy (info on how to is on the Book Club page), or do something entirely of your own design.
However, if you'd like to be more proactive, you can join the super secret Team Crayton mailing list. We're trying something new with Team Crayton. We'll be offering our Team Crayton mailers first dibs on things like advance review copies, and we'll be seeking your opinions on various things (such as potential covers). If you want to join the Team Crayton mailing list, simply sign up. Team Crayton is a subsection of the regular mailing list, so if you join it, you'll get the regular monthly mailers, too and don't need to separately subscribe to that list.
If you're spreading the word, I'm happy to help. Have a cool idea to spread the word? Drop me a line and let's discuss. I love it when you're on my team.
Feel free to use the contact form to reach me.
You guys are AWESOME!
-RJ
* Please use WordPress' reblog feature to reblog a post; or you may excerpt and link to the post. Do not copy and paste the entire blog post. Contact me if you have any questions.