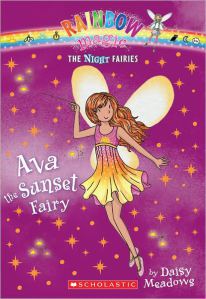 I've been on the Internet less the past couple of days because I've been busy sewing. Because I am not very adept at sewing, it takes me a long time to get anything done. Since I've spent two days on this project (days I can never get back, mind you), I thought I'd share the fruits of my labor.
I had to sew a dress for my daughter for school.  This year, my daughter was blessed with a wonderful, creative teacher who has assigned the kids things like nature walks (did I mention I like to observe nature from my window, or my sofa via the Discovery channel?), discovery hikes where we search for things in their natural habitat–like birds and spiders (did I mention I hate spiders?) and a "living book report."  For the "living book report," the kids have to dress up as a character from the book and talk about that character's role in the book. (As an aside, you may want an uninspiring drill-and-kill teacher; your kid will complain, but at least you won't be out hunting for spiders or sewing costumes.)
My daughter chose Ava the Sunset Fairy (from the novel of the same name; pictured above).  I couldn't find this awesome multi-hued fabric, and my husband is against spray paint and fabric dye, so I had to go for the general theme here.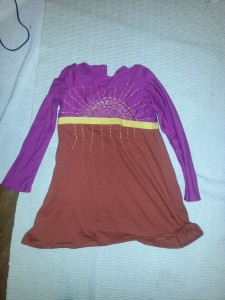 This is the dress I made. (I embroidered the sun. If you've never embroidered, the hardest part about embroidery is detangling the embroidery floss. I'm not joking. Seriously. Do it wrong, and you will be cursing the people who invented this type of thread.)
And now, my daughter is a fairy. Book report is today, so I'll let you know how it went next week. (Here's the worst thing–she doesn't want to be Ava for Halloween! Yes, she wants a different costume.)
I'm officially done with sewing. With the number of woman-hours I put in on this dress, it would have been cheaper for me to convince my daughter to read a batgirl book, and run to Target for a costume. (Yes, I am quite aware that is not "Awesome Parenting 101." But you can help. Buy my book, so my children can get therapy later in life).
I'm off for now. I hope everyone has a fantastic weekend!