I was recently interviewed on IndieView, and one question I was asked was whether I designed my own cover or not. I admitted that I had made a few failed attempts  to create a cover for Life First before I turned to a professional. I also said I might show some of the failed covers in a blog post.
So, seeing as I'm particularly busy getting Second Life ready for its December release, I thought now would be a great time to do the failed covers blog post.
Part of the problem with me trying to design the cover was that I had no idea how to use the software or to layer the images, or even a good idea of what images to use, so my goal was to go simple.  Here are the covers I considered before deciding I wasn't a graphic artist and getting a professional.
So this is the very first cover I considered. It was bad, and I didn't like it. I thought blue was the wrong color and while I can't articulate all the reasons why, I just knew it didn't work.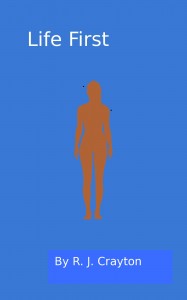 Next up, I got rid of the woman's silhouette and tried just black and white. But I didn't particularly like that either.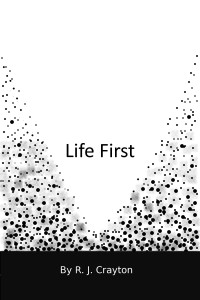 So, deciding I didn't like the black-and-white, I tried  for a red that approximated the color of fading blood. I thought that would be stark, yet still interesting.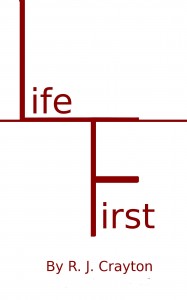 I liked this concept better than the first two and played around with this one the most, with the following covers: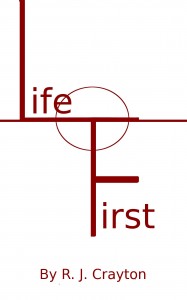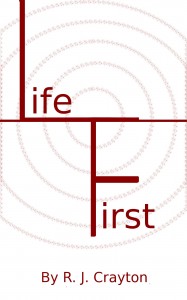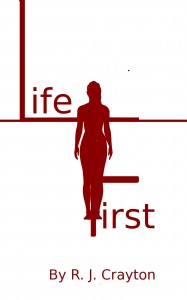 While I'd liked those concepts more, none felt like a hit, so I played around a little more with it, thinking I'd like the feeling of angled lines.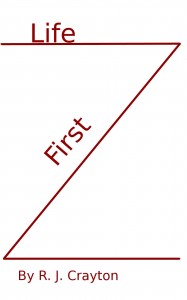 The angled lines formed a Z, which seemed out of place. But, I did like the idea of the angled lines, so I tried this one final thing, making the lines converge to form the L of Life First.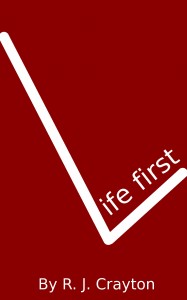 I think I ended up liking that cover best, but when all was said and done, I didn't feel like any of the covers looked professional. So, I went out and got a professionally designed, pre-made cover. I think it's for the best, but those were my attempts.
I think there are some authors out there who also have a graphic design background (or natural talent to figure it out) and can do their own covers, but I'm not one of them.  And I did try (I checked out several cover design books from the library, but I didn't feel I'd gotten the hang of it). So, for the authors out there, did any of you try to make your own covers? Did it work out well or poorly?