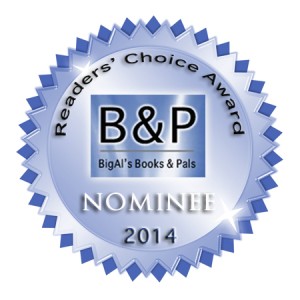 Exciting news: Life First has been nominated for the 2014 Readers' Choice Award for Speculative Fiction at the Big Al's Books & Pals blog.
What an exciting honor! I'm super thrilled for Life First. You can help bring Life First from nominee to winner by voting for it here.  Every person who votes is also entered into a raffle to win a $50 Amazon Gift card. So, a total win-win situation.
In other news this week, I decided in early February that I would run a 99 cents special the first week of March (On Amazon and Google Play store; You can use the coupon code YQ26U to get Life First for 99 cents at Smashwords).
Clearly 99 cents was a good choice for this week as the nominations also happened to be announced this week.  If you know anyone who hasn't read Life First, encourage them to pick it up while it's on sale, and to vote for it.  Both my parents are  from Chicago, which is known for being a bit corrupt. So,  I'll offer the salutation Chicagoans use around election day:  vote early and often.  🙂 (Joking. You can only vote once. You vote through the rafflecopter at the bottom of the page and you won't see it until you log in to rafflecopter with either Facebook or an email address.) Everyone who votes is entered into a drawing for a $50 Amazon gift card, so it's a win-win situation. Please take a minute to vote.
Lastly, I've been doing a little pinning on Pinterest, using quotes from Life First. Since Readers' Choice voting ends next week, I thought I'd blog a pinned quote every other day this week. So, here's the week's first quote.  Feel free to pin this. You can use the Pinterest sharing button at the bottom of this blog post, or share it directly from  my Pinterest page.