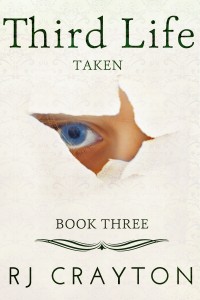 Happy Monday to you!
Just a quick post to let the rest of you in on what I told my subscribers in the newsletter. I've finalized the cover for Third Life: Taken, and the book is due out Sept. 10.
I'm trying something new this time, an Advanced Review Copy giveaway. I'm going to giveaway a total of four copies. Two will be in a Goodreads Giveaway that opens Aug. 1 and runs through Aug. 20. The other two will be a giveaway to subscribers of my newsletter. If you haven't subscribed, please do. I also gave subscribers a sneak peek at the first chapter of the book.  I'll be posting this chapter on Wattpad  on Aug. 11 (I'll be posting the first 7 chapters via Wattpad; one per week). If you feel the need to see it before then, feel free to subscribe to the newsletter in the next couple of days, and I'll send you the link to the chapter.
I'm blogging at Indies Unlimited today on cool plugins for your author blog or website.  There's also an author interview with me running today on the Take the Plunge blog.
Finally, please good thoughts for my daughter, who fell yesterday and chipped both front teeth. Obviously, we're glad she wasn't hurt worse, and didn't actually get the tooth knocked out or something. Still, it's no fun having the two teeth people see first chipped. So, we're seeing the dentist this morning. Fingers crossed it's an easy enough cosmetic fix (though I'd rather not know about cosmetic dentistry for seven year olds–and yes, they're her permanent teeth).