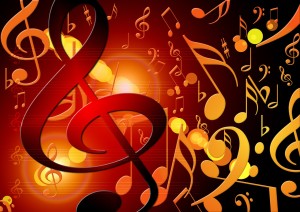 When I wrote my book Second Life, which is set in the same future as the Life First series, about 100 years from now, I decided it would be fun to have the character of Rob be a Beatles fan.  Susan, who spends a fair amount of time with Rob, says something to the effect of, "Who listens to music from more than a century ago?"
One of my beta readers thought the Beatles would still be a quite recognizable band, though I wasn't so sure. They could be like a Mozart or Beethoven, studied pioneers, or they could be forgotten. Second Life came out in December of 2013, but earlier this year, when Kanye West did a song with Paul McCartney, several of the younger generation said in online forums, "Who's this Paul McCartney guy? He's pretty good. He may have a future."  People hoped they were joking. But, ummm, I don't know.
But it did get me to thinking about whether popular music survives  over centuries. Sure, most Americans can –at the very least– hum the Star Spangled Banner (fewer know all the words). But, do we know other songs from the past?
Oddly enough, I was surprised to learn a few weeks ago that I know a couple of the ragingly popular tunes of the late 1800s. You probably do as well. On May 5, Google did a doodle to celebrate Nellie Blye, a 19th century journalist and novelist. Because she was right there in front of me, I decided to read about Blye, and learned Blye was a pen name inspired by the Stephen Foster song Nelly Bly. Having no recollection of hearing of Foster, I clicked through a link to find out about him. Turns out, he's written songs I've heard of. Oh Susanna, Camptown Races and Old Folks at Home. Now, the first two, I recognized immediately as songs I'd heard. However, I had to look up Old Folks at Home, which I recognized, once I saw the opening line:  "Way down upon de Swanee Ribber, Far, far away…."
Interestingly enough, the Wikipedia page for Foster mentions the music being used in cartoons, and I'm pretty sure I recall these songs primarily from Looney Tunes episodes I watched as a child. So, it simply took one generation inserting the songs into something that the younger generation enjoys to get the songs to carry. My daughter, 8, was familiar with Oh Susanna, but not the other two songs.
Today, with movies and other media that spans generations, I do wonder if the future generation's recollection of songs and other pop culture from past eras will be wider. On some level,  the odds are better that people can experience more from times gone by because of our recording abilities. However, with so much new stuff, will the people of the future really care what was done in the past.
I don't know that a ton of pop music continues a century later. However, it is nice that books seem to be kept and read, even after centuries. Yes, the older the item is, the fewer that are read popularly (lucky Homer), but still as you get closer in time to today, there are a multitude of authors from a century or two centuries ago whose work is so popular, it is adapted over and over again (I'm thinking of people like Charles Dickens or Jane Austen)
or whose works are still read outright, like Mark Twain and Nathaniel Hawthorne.