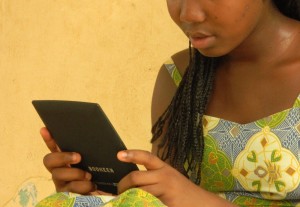 I saw an article the other day that referenced a study showing when readers quit reading a book. The point of the article was to tell authors they needed to hook readers early, otherwise readers quit.  While that's certainly important info,  I was fascinated by another part of the article: the chart that showed what percentage of readers read each chapter of the book .
The way the study worked was that several readers were given ereaders and a selection of books to read. The ereaders  recorded at what points in the books readers stopped. In a study like this, one would expect the reader drop-off rate to be fairly steady. Let's say it was a 10-chapter book. You might expect 90 percent of readers to finish chapter 1,  maybe 85 percent to finish chapter 2, 80 percent to finish chapter 3, and by the time you got to chapter 10, you'd be at 40 percent, which is considered a decent completion rate.
Instead, the Digital Book World Study had a chart that showed roughly 60 percent of the readers making it through chapter 4. Then the readers drop off slightly, with about 57 percent reading chapter 5. And here's where it got interesting for me. At chapter 6, we were back up to 60 percent reading that chapter. My only thought was people got bored in chapter 4 and decided they'd skip ahead a chapter and see if it got better. It apparently didn't for some, because chapter 7 has what looks like a 55 percent read through rate.
So, I asked some friends about this, and several of them said they would (if they were getting bored but had liked what they'd seen early on) skip ahead to see if the book got better. This is the complete opposite of me, as I'm pretty much done when I'm done. If I've decided to stop, I'm just going to stop.  Now, I'll give a book a fair amount of time, but I don't do second chances.
Given this study, I thought I'd ask what type of reader are you?
Quick, dirty and decisive. You give a book ten pages or less and you've made a decision. The writer must grab you now or it's not going to happen.
The cynic. You'll give a book three to six chapters, but after that, if you're not hooked, you're pretty confident it's not going to happen.
Skippy. You'll give the book a few chapters, and then if it's not floating your boat, you'll skip ahead to see if the later chapters are worth sticking around for.
The almost eternal optimist. You'll read 75 percent or more of the book, thinking it will get better, before you finally give up.
Mama Didn't Raise No Quitter. You finish every book, no matter.  You may grumble, you may 1-star it, you may tell everyone you know not to get it, but you're gonna finish that sucker.
Now, I'll admit, you can fall into more than one category, depending on the book, I think. For example, if someone recommends a book I was hesitant on in the first place, I'm quick, dirty and decisive. If it's a book I was really looking forward to, I probably fall in the Mama Didn't Raise No Quitter category. I wanted to read the book, so I'm going to try to prove to myself that I should have. I'd fall in the same category if it was a serial series I started and liked. If I liked book 1, and it's only a three or four book series, I'll slog through the rest of the series to find out what happened to the characters I loved in book 1. However, in most cases, I'm the cynic. I'll give it a decent amount of time, and then bail if it's not working.
So what kind of reader (or combination) are you?