Note: Author Jim Brown and I will be giving a FREE self-publishing seminar Saturday, April 9, from 2-4 p.m. at the College Park Book Festival. Stop by if you're local.
Happy Sunday to you. Last week, we talked about the basics of self-publishing. This week, I promised to offer some guidance on how much money it costs to self-publish.
So, how much money does it cost to self-publish? Unfortunately there's no simple answer that's right for everyone. If you know the right people, you can publish for exactly zero dollars. Yes, $0.  However, to get away with this feat, you'll need to have a friend who's capable of doing your editing at no cost and you'll need to be able to design a cover and format your books yourself. If you're doing a paperback book, you're going to have to rely on technology working perfectly.
Most people aren't so lucky to have an editing friend who will work for free and skills to do everything else themselves. That's why people pay for assistance. So, what are the things that people pay for when publishing a print or ebook?
So, those are the three items you would likely pay for when self-publishing an e-book or print book. If you are self-publishing a paperback book, you can possibly have a couple of extra costs.
Wrap-around Cover.  Cover designers generally charge for an ebook front, and then will ask for an additional fee if you want them to create a "wrap-around" cover for print. The wrap-around cover includes a front, spine and back of the book. The wrap around cover cannot be created until you have the print manuscript formatted. You only know the width of the spine after you know the page count and trim size (often 6″x 9″, but multiple sizes are available). This cover add-on is usually done at a flat fee in the $20-$50 range (that's in addition to the cost of the ebook cover).
Proof copy. With a print book, the only additional cost you might incur is that of a print Proof Copy of your book. A proof copy is an actual physical copy of the book as it will look printed. The proof lets you know if anything you've fromatted looks wonky or not as you expected. Generally, the Proof costs $3-to $5 (plus shipping, usually $4-$5). So estimate $10 for the proof. If you use a company like CreateSpace, there are no fees to upload your manuscript or to publish it.  You can choose a digital proof rather than paying to get one printed. But even CreateSpace notes that things don't always turn out looking the same, and recommends paying for the proof copy. I would agree. I used a different font for discussion questions. It looked fine on the screen, but absolutely terrible when I received the physical book.
ISBNs. I don't recommend buying your own ISBN, but some people choose to spend money on them. ISBN stands for international standard book number.  All printed books need one. Ebooks can have one, but it's generally not required (I believe Apple requests all ebooks have an ISBN).  In many countries, ISBNs are free. In the US, they are only sold by Bowker and cost $125 for one (10 for $295, and they get cheaper the more you buy). However, most of the companies that deal with self-publishers will give you an ISBN for free. Therefore, I don't recommend buying your own. You're asking, but shouldn't I have my own number? No. It's just an identifier, and your book needs several. You need an ISBN for each edition–the paperback, the ebook, the hardback. If you make changes and create a second edition, you need a new ISBN. A book is likely going to have multiple ISBNs. Paying for your own is just adding an extra expense to your docket for little value. If your goal is to be a publishing company and you want to publish all sorts of people's books, including your own, probably spend the money and buy blocks of ISBNs (which are cheaper in high volume – 100 cost $575). However, for the average person who's publishing a book, this is just throwing good money away.
I think I've covered the bulk of the things that self publishers spend money on. If you wanted to buy each and every one of them, your publishing costs will be higher than if you do some of the work yourself.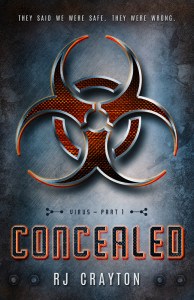 <<<<<<<Check out my Kindle Scout book.
My book Concealed is competing for a Kindle Press contract over at Kindle Scout. Check out the excerpt and if you like it, click the blue NOMINATE ME button. Those who voted for books selected for publication by Kindle Press, will receive a FREE ebook copy when the book is published.
* Back matter is the stuff in the back of the book, after the text is finished. It usually includes sections titled: About the Author, Other books by this author, FREE PREVIEW, Join our Mailing List.