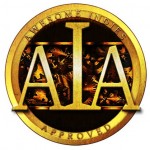 I found out super exciting news last weekend. Life First has been approved for inclusion in Awesome Indies.
The site, http://awesomeindies.net, showcases only high-quality, independent fiction. In order to be included, you have to receive five-star reviews from the in-house reviewers or a select list of "approved" review sites.
I decided to try for Awesome Indies in August, but it took time to get the approved reviews, and frankly, I feel very lucky to have gotten them in that short a period of time. Very excited to have the Awesome Indies seal!
If  you haven't read Life First, please check it out. You may read an extended sample, or purchase it via Amazon, Barnes & Noble, Apple, Kobo or Smashwords.