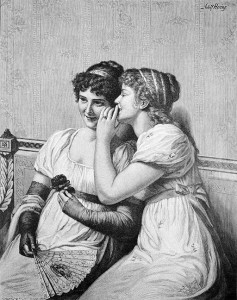 I've got a secret to tell you, only you won't know if it's true or not because there's no way for you to confirm the secret unless I invite you in. And I won't, because I'm not really at liberty to do so.
Yes, sounds like something from an espionage tale. But, it's not. Turns out a lot of writers lead secret lives ON FACEBOOK.
Last year, after publishing my book, I realized I needed some help figuring out what I was doing, so I followed lots of blogs and joined some writers groups on Facebook. And at some point thereafter, I was asked if I wanted to participate in my first Secret Group.
Never heard of these? Well, you won't hear of a secret group unless you choose to create one or are invited to join one. It's because they're a secret and they don't show up on Facebook in searches or newsfeeds unless you're a part of the group.
Since then, I've been included in two additional secret Facebook groups. Oddly enough, all three secret groups I'm in were formed by writers and include writers. So, this led me to conclude that writers are habitually living secret lives on Facebook. Though, I suppose there could be a lot of other groups leading secret lives on Facebook, too. I just don't know about them because, y'know, they're secret.
So, what goes on in Secret Groups? Depends on the group. One I'm in because I paid for a class, and this is part of it. Only those who ponied up the cash get access.  In another group, it allows members of a writing group to float ideas and discuss them in a forum that only the participants get to use. In all the groups, it allows for a little bit more free speech. People say things they might not necessarily say in a public forum. Some people are a bit more snarky.
So, tell me. Am I wrong. Is it only writers leading secret lives? Or are you part of a secret Facebook group, too?