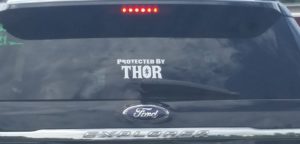 So we were out and about the other day, when I noticed the car in front of us had this sticker on it.
I adored it. Protected by Thor. How awesome.
While I love Thor, I also think other gods and super heroes are cool. Could I be protected by Poseidon, Ra, Isis, or Zeus. If we head into the Marvel cinematic universe, could the Black Panther protect me?  I have been loving the pictures coming from that set.
So, if you were to make up your own decal, who would you be protected by?